Keshi Yená is a delicious native West Indies dish developed by slaves during the 17th and 18th centuries.
The dish was originally made with a hollowed out wheel of Edam cheese.  The Slave Master ate the cheese and left the thick crust for the slaves.  The slaves got quite inventive and managed to create themselves quite a feast, filling the crust with pieces of meat, vegetables and herbs.
Today's chefs by and large no longer make Keshi Yená with the hollowed out wheel of Edam cheese.  They are instead taking a layered approach by lining their dish of choice with slices of aged Gouda cheese then adding a layer of various meats (usually chicken), vegetables and spices.  The possible combinations today are endless.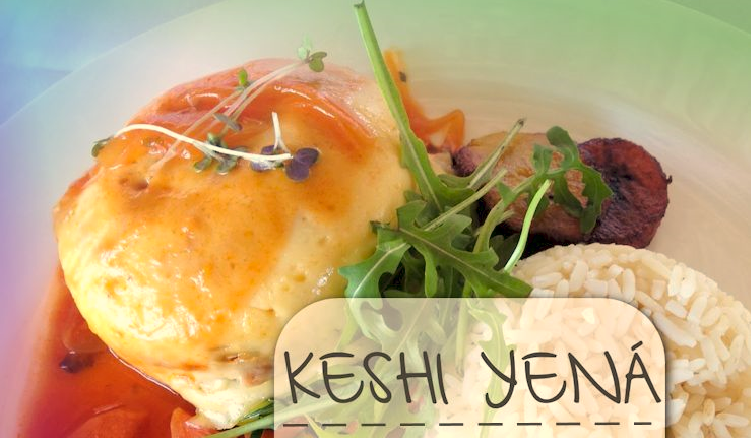 Ingredients
500 grams [approximately 18 ounces] chicken breast
1 green pepper
1 red pepper
1 onion
2 sprigs celery
50 grams [approximately 2 ounces] green olives
50 grams [approximately 2 ounces] raisins
50 grams [approximately 2 ounces] pickled onions
50 grams [approximately 2 ounces] cashew nuts
1 small 70-gram [approximately 2.5 ounces] can tomato paste
1 tablespoon piccalilli
1 tablespoon soy sauce
aged Gouda cheese, sliced
Directions
Preheat oven to 180 °C [approximately 350 °F]
Boil chicken 15 minutes in salted water or broth
Dice the green and red pepper, onion and celery, add to chicken and boil for an additional 10 minutes.
Next add the olives, raisins, pearl onions and cashew nuts and boil for an additional 5 minutes.
Drain off liquid with a colander and place chicken mixture into a bowl. Combine with tomato paste, soy sauce and piccalilli.  Set stuffing mixture aside.
Lightly coat a glass casserole dish with olive oil and line with cheese slices
Place stuffing mixture on top of the cheese slices. Top with another layer of cheese
Place casserole dish in the oven and cook for approximately 40 minutes.
Remove casserole dish from the oven. Allow the Keshi Yená to cool slightly before turning onto a serving platter.  Cut and serve.
"Kome dushi!"
– Jurino
This recipe was originally posted in Dutch on Antilliaans Eten and has been reposted and translated with Jurino's permission.Bewaren
Bewaren
Bewaren
Bewaren