Johnny Cakes, also called Shawnee Cakes or Johnny Bread, originated from native North Americans.  It remains a popular dish in the West Indies, the Dominican Republic, Bermuda, the Bahamas, Colombia and the United States.  And it really has become a local dish on Aruba, Bonaire and Curacao too.
Typically it's made with some variation of corn meal. Johnny Cakes can also be made using wheat flour.  The cakes are deep fried in hot oil, set aside to cool and then filled with various cheeses, meats or vegetables.
Johnny Cakes are the perfect dish to take along on a picnic, as they cook quickly and tend to stay fresh longer because the dough contains no yeast.
The following recipe yields approximately 15 Johnny Cakes.
Ingredients
500 grams [approximately 18 ounces] wheat flour
1 tablespoonbaking powder
1 teaspoon salt
1 tablespoon sugar
2 tablespoonsbutter, melted
100 ml [approxmiately 3 ½ ounces] water
100 ml[approxmiately 3 ½ ounces] milk
oil for deep frying
Preparation
Combine flour and baking powder, mix well with a spoon.
Mix water, milk, butter, salt and sugar and add to the flour mixture.
Knead by hand or with a food procesor until the dough is smooth. Let the doughrest 15 minutes.
Divide the doughinto small balls (about the size of a walnut) and press flat.
Heat the oilto about 175°C [approximately 350°F] and fry the Johnny Cakes one at a time until they are golden brown (about 2 minutes].
Allow cakes to drain and cool on a paper towel, then slice open and fill with cheese, meat, vegetables, etc.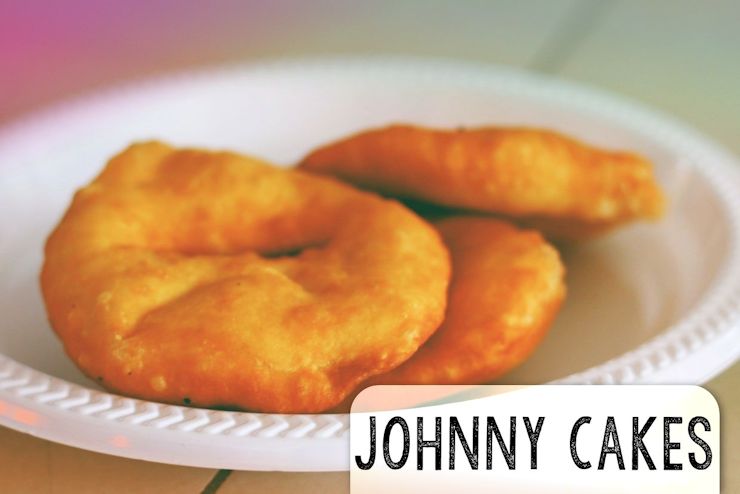 5 Tips for Making Extra-Airy Johnny Cakes
Don't knead the dough too long. It is important to not knead the dough too long, especially since this dough does not contain yeast.  Simply knead Johnny Cake dough unti it is smooth.
Let the dough rest.  This is especially important if you knead your dough by hand—the warmth of your hands can really affect your result!  So after kneading your dough for 15 minutes, give it a rest!  Set the dough aside and allow it to cool so that it'll be easier to roll out.  This brings us to tip #3.
Roll your Johnny Cakes to the right thickness. Roll your Johnny Cake dough so that is is 1.5 cm [slightly more than ½ inch] thick.That way you make sure the dough will be thin enough to deep fry quickly and still have enough body to 'puff out' a litle.
Deep fry at the correct temperature. It is very important that the oil be really hot, with between 170°C and 175°C [approximately 350°F] being your optimal temperature.  If you have a deep fryer this is a standard setting.  If you're using an 'old-fashioned' pan, however, you can make a number of smaller test dough balls to test first.  When you have the correct temperature the dough balls will fizz and rise.  It just takes practice.
Make sure you have 'good' ingredients. Nothing can ruin a recipe more quickly than old, stale ingredients.  Pay close attention to your baking powder, making sure it hasn't expired and hasn't been open too long (making it stale).  Old, stale baking powder usually results in flat, hard Johnny Cakes.
Good luck and "Kome dushi!"
– Jurino
This recipe was originally posted in Dutch on Antilliaans Eten and has been reposted and translated with Jurino's permission.
Bewaren
Bewaren