A major part of the holiday season on Aruba, Bonaire, and Curaçao is food. Traditionally during the holiday season "Ayaka's" and "Ham di Pasku" are prepared. For those of you who would like to prepare some of these holiday dishes yourselves, we have worked with Jurino Ignacio to put his recipes on our website for you.
The holiday season starts early on our islands. The decorations are put up mid-November. Most roundabouts are decorated with colorful lights as are the high streets, major roads and the famous pontoon bridge on Curaçao. It makes for a festive sight. It's not just the streets either; many homes are also decked out in full Christmas lights. Decorating is a big event, and it sometimes turns into an undeclared contest between the sponsors of the roundabout decorations and even between neighbors.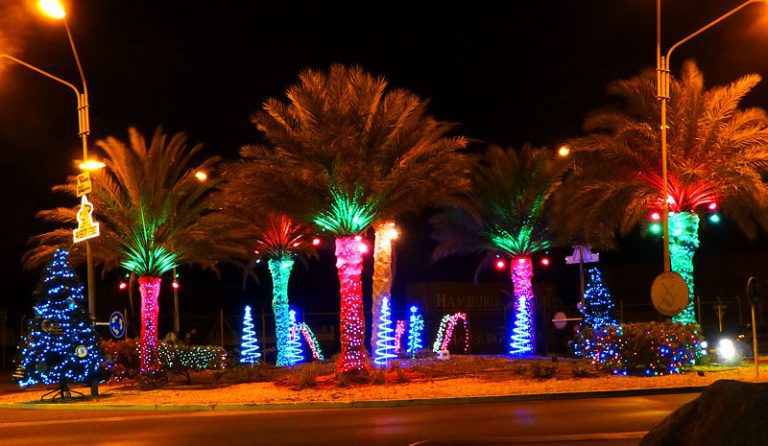 Fireworks
After the Christmas celebrations are over, locals immediately shift gears towards  New Year's Eve. As with Christmas, these celebrations start early too. In the weeks leading up to the new year. Many companies are sponsoring major fireworks shows and pagaras.
Most nights there are multiple, consecutive shows and at least one pagara. The pagara, a long string of Chinese firecrackers that ends in several larger ones for a dramatic finale. Some pagaras can last as long as a half hour. Every year the Pietermaai District has a 2-kilometer long pagara, which runs through the whole district. Along the route, there are festivities, with a big party at the end of it. It makes one heck of a noise.
Happy New Year
Besides all the festivities during the weeks leading up to the New Year, there is the major fireworks show at midnight. It's the culmination of the holiday season. Locals come out to central locations to enjoy the fireworks. If you want to join them, be early and bring your cooler.
On behalf of the team at ABC Villa Rentals, we would like to wish you a happy and sunny 2017.
Bewaren
Bewaren
Bewaren