Jan Kok is a plantation home in Curaçao. It is close to Willibrordus and near Jan Kok Bay, where you can see flamingoes. Nena Sanchez is a gallery located in the Jan Kok Landhuis. We had been riding past the Jan Kok villa since our first day in Curacao. From seeing the paintings by gate, I had become curious about the art. Later in our vacation, we took the time to visit the villa. What you immediately notice is the stunning view—that alone is reason enough to visit the villa!
Plantation
The Jan Kok plantation was established at the beginning of the 18th century. Salt was harvested here, but there was also agricultural and livestock farming. Thanks to deterioration and fire, there was little left of the villa by 1784. The current building, shown in the photo above, was built in 1840. In 1961, the villa was restored and since 2002, the villa has been the open-air studio of Nena Sanchez. From the terrace, you have a view over the salt pans of Saint Marie and you can see flamingoes as well as the villas of Harmanus, Rif St. Marie, and Sebastian in the distance.
Nena Sanchez Gallery
This is one of the paintings at the entrance. The works are quite colorful like you see everywhere here.  Nena Sanchez was born in Curacao. After she was crowned Miss Curacao in 1966, she traveled the world for years. In 1994, she returned to Curacao. The bright colors of the island gave her inspiration to pick up art again, which she had often enjoyed in her youth. She has been releasing her art since 1998.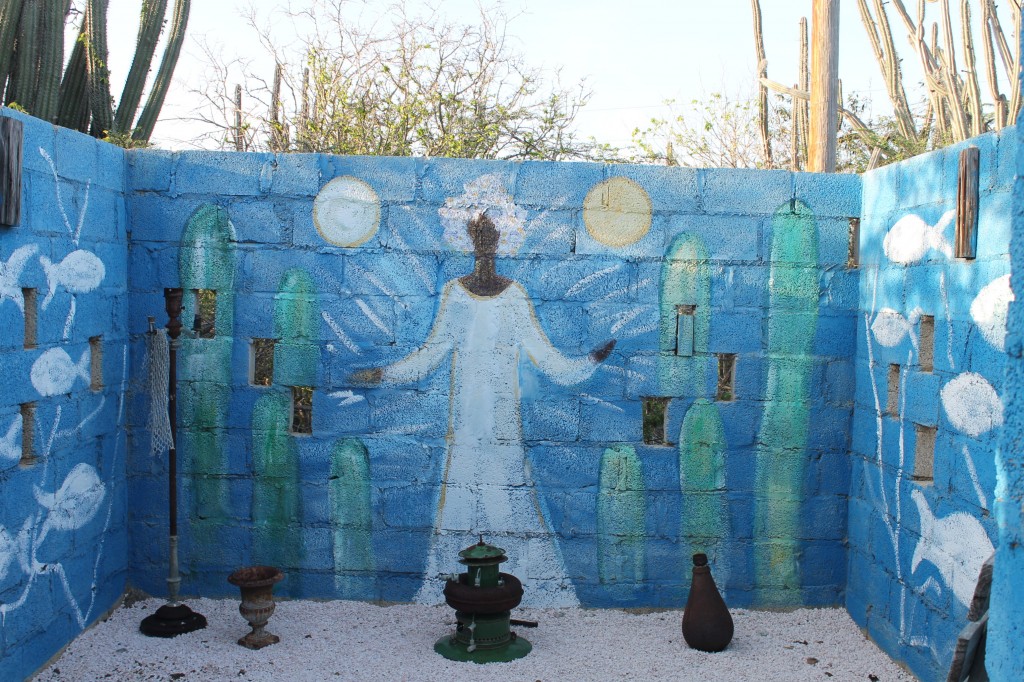 Colors
The bright colors that you see in the photos are all revisited in her artwork. Photographs are not permitted in the gallery; the photos above were taken in the garden. If you would like to see her art, you can visit any day between the hours of 10 and 6, with the exception of Mondays.
This article was originally posted in Dutch on Reistips met Kids and has been reposted and translated with Karlien's permission.